Affiliate Privilege Reward @ Qcircle
Not a Member?
Complimentary Login as friends to participate.
Affiliate Upgrade for immediate privileges.
Immediate Job and Business privileges
Reward : Affiliate @ Qcircle
Get  Competency Assessment
Subscribe to an Affiliate Plan
Be Qcircle Qualified
Immediate job is available for all qualified persons as an Affiliate @ Qcircle. Submit for a Competency Award. Generally, you act as an independent service providers and accorded Affiliate Previlege and Reward for participation. Be qualified and progress on at your own pace.
---
Members Progression : Advance Job Creation Plan
| Associates @ Qcircle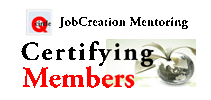 Be Qcircle Certified. Fast track professional career induction program.